Last updated: 21 septembre 2023
Reading is what made me rich.
Financially and socially.
And it's what keeps my net worth growing to this day.
So I asked the Mustachian community:
"What personal finance book would you recommend to other blog readers?"
And after several hundred responses, the list started to become more clear comprehensive.
Are you looking for solid resources, inspiration and ideas to get you started on your journey to financial independence?
Or are you looking for tips on how to achieve financial stability, save money and eliminate debt from your life?
Oh, and if possible, you'd also like some guidance on how to increase your income (salary AND complementary passive income)?
Then you're in luck with this top 10 list of the best personal finance books!
Disclaimer: there are some affiliate links, dear reader! If you want, you can also find these books by doing a simple Google search or on Amazon.
List of the best personal finance books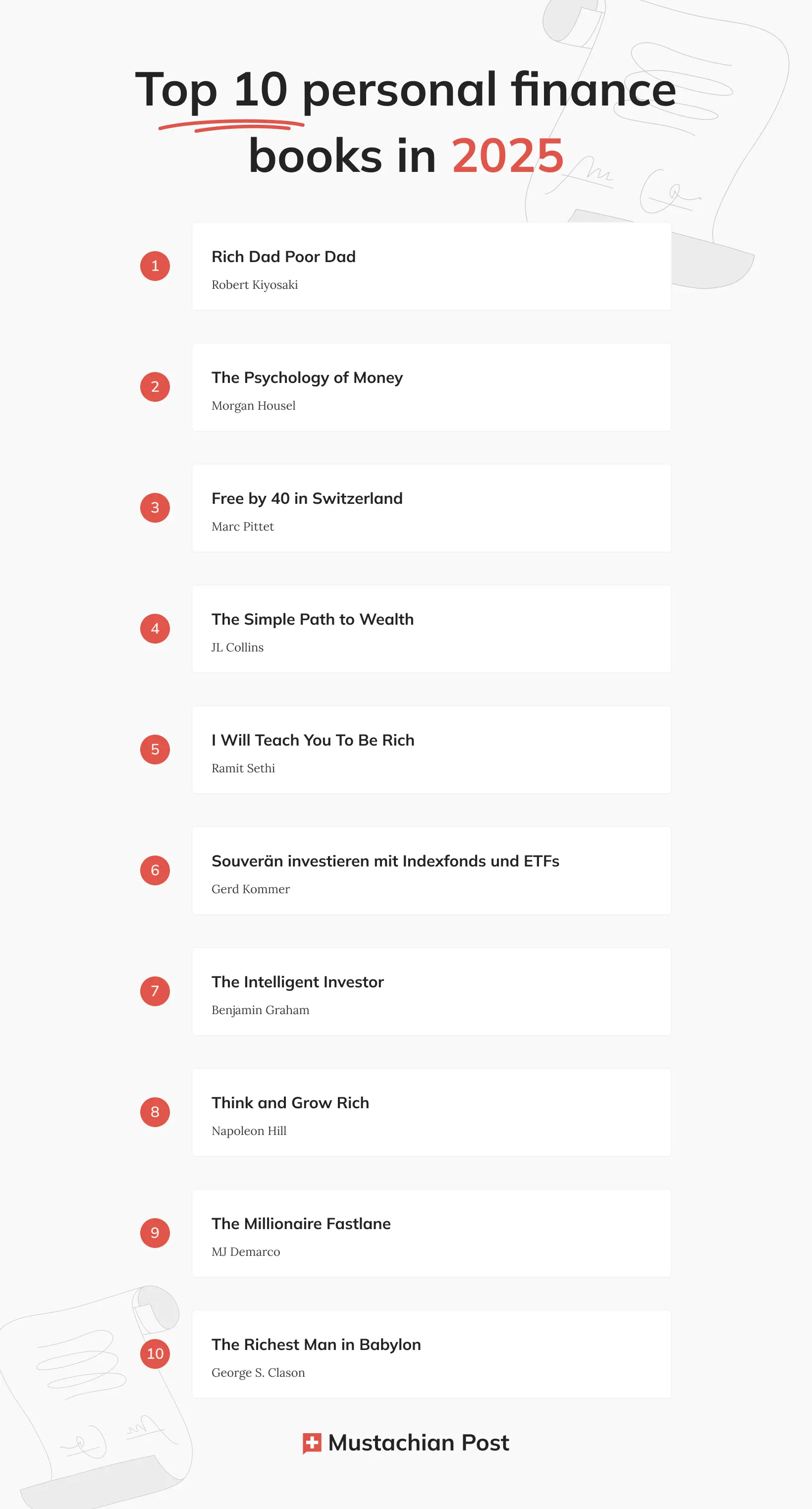 I've also prepared a PDF file of this list of the best personal finance books if you'd like to keep it for future book orders :)
FAQ
What's the best personal finance book?
"Rich Dad, Poor Dad" by Robert Kiyosaki is one of the most recommended books for people who want to take control of their finances.
What books should I read to improve my mindset about money?
"Think and Grow Rich" by Napoleon Hill, "Rich Dad, Poor Dad" by Robert Kiyosaki, and "The Richest Man in Babylon" by George S. Clason are great classics in terms of mindset about your personal finances.
Why should you read books on personal finance?
Reading books on personal finance allows you to discover the real-life experiences of other authors facing the same problems as you. Their practical advice helps you overcome difficulties, avoid mistakes and achieve financial goals, accelerating your own financial journey.
3rd pillar linked with life insurance? Does that ring a bell ;)? How to save money? How to invest in the stock market? How to pay off all your debts?
You're not the only one asking these questions, And the books above will help you take the shortcut that a mentor could bring you, rather than having to make every possible and unimaginable mistake yourself (and lose years or even decades on your path to financial independence).
---
PS: you guys are nice (and biased) for voting formy book! I hesitated to remove it from the list… but hey, we're on a Swiss personal blog after all, so I decided to leave it on the list :)
---
Header photo credit: University of Zurich