Last updated: December 9, 2023
I'll guide you starting from the research to the purchase of
your first rental investment in Switzerland!


You will have the possibility to verify your purchase.

Daniel Dreier
Senior Editor, moneyland.ch
"This program is a rare, hands-on guide for people who are serious about actually investing in Swiss rental properties.

If you are looking for a real-world action plan to get you started on your real estate investment journey, then I highly recommend this tailored Swiss Real Estate Program."
---
Young Swiss worker. Looking for passive income.
Most young Swiss workers do not have a degree in Real Estate Law, nor in Finance…

And they have busy schedules.

On the other hand, frugalists — like you! — want to grow their savings and get another source of income.

Ideally in something that is tangible.

That's why I created this real estate investing program 0% jargon guaranteed, so that you can generate passive AND stable rental income in Swiss francs.

Rental income is money coming from tenants who pay you rent every month!

There are various reasons why you should start investing in real estate:

Early retirement at age 40 in Switzerland
A safety cushion to launch a personal project
A move to part-time (80%, the dream!)
A sabbatical year with the family (before the kids are too old)
---
Young Swiss worker. Don't know where to start...
In November 2018, I decided to get into real estate…

I wanted to diversify my stock investment portfolio by getting into rental properties.

And at the same time use the mortgage system to invest with leverage — i.e. how to invest 100% with only 25% equity.

Except that:
I had no idea where to start, or what to look for
I didn't know who to turn to to get this information
I didn't want to fail, because we were talking about losing several hundred thousand francs of savings

So I asked Google…

I started to search: "rental properties in Switzerland", "where to find real estate investment opportunities", "invest in real estate in Switzerland", "rental investment French-speaking Switzerland", etc..

Amidst the French clickbait courses (and had nothing to do with the real estate market in Switzerland), and the Swiss real estate funds investment websites with huge fees, I never managed to find the right information condensed in one place on how to start investing in real estate…

The benefits of becoming a rental property investor were clear, but I knew I had blindspots about its potential challenges.

Luckily a trusted contact (thanks to the blog!) helped me see that it was possible to generate automated income by collecting rent. Our discussions helped me understand the basics of real estate investment in Switzerland.

After that, I spent many evenings looking for the right resources online (applicable especially for the French market…).

Then, for weeks, I worked on finding the right people to talk to in the real estate market and construction industry to create my modus operandi in Switzerland.

As I went along, I was able to gather all the necessary information:

Rental return rate calculation
What is a "good" purchase price
Difference between gross and net rental yield
How to find rental investment opportunities in Switzerland (spoiler: attractive investment opportunities aren't on Homegate!)
What are the expenses of a rental investment (property maintenance, property manager, repair costs, risk of potential tenants' vacancy, etc.)
Taxation of real estate income in Switzerland
What financial conditions are required by Swiss mortgage lenders
How to negotiate the sale price of a rental property
It wasn't until several months later that I was able to purchase my first rental property investment 🎉…

"But MP, we are not all lucky enough to have a blog with valuable contacts, nor the time and energy to look for all this information scattered on the web…"
That's why you are reading this page :)

---
MP to the rescue!
I'm just like you…

Before you ask, let me point out that:

I am a standard Swiss, married, with two children
I am not a millionaire (yet!)… (EDIT: oops, I actually am now)
On the other hand I save frugally
And I know that any fortune is built with patience and perseverance (not thanks cryptos!)
My objective with real estate in Switzerland: 10-15% net rental yield after taxes
Also, I am looking for:
Investing in real estate in Switzerland (residential property, not commercial property)
Obtaining a 10-15% rental return on investment
Via a structured and organized operating mode, AND reproducible every time
In short, I am an average Swiss who wants a recurring passive income every month, not fluctuating as much as the stock exchange.

And I really like this idea that my 1st building can bring me ~10kCHF/year of net income after taxes (including property taxes), and that with the purchase via the same modus operandi of 7-8 other buildings over a mid-term period, well, I am good to be FIRE (Financial Independence, Retire Early)!

---
I own three buildings today!
I use the exact same process this program advocates for my own research.

Every single time.

I bought my first rental property in 2019 (abroad).

Through the automation set up, I received an unexpected proposal for a second building before it was even on the market.

We signed at the notary 3 weeks later!!

And the same year (2022), I have set myself the goal of buying my first investment property in French-speaking Switzerland for an amount between 1.5M and 3M CHF.

The objective was reached early 2023.

I signed for a multi-family home of CHF 1'600'000 in the canton of Vaud (in a region with a low vacancy rate).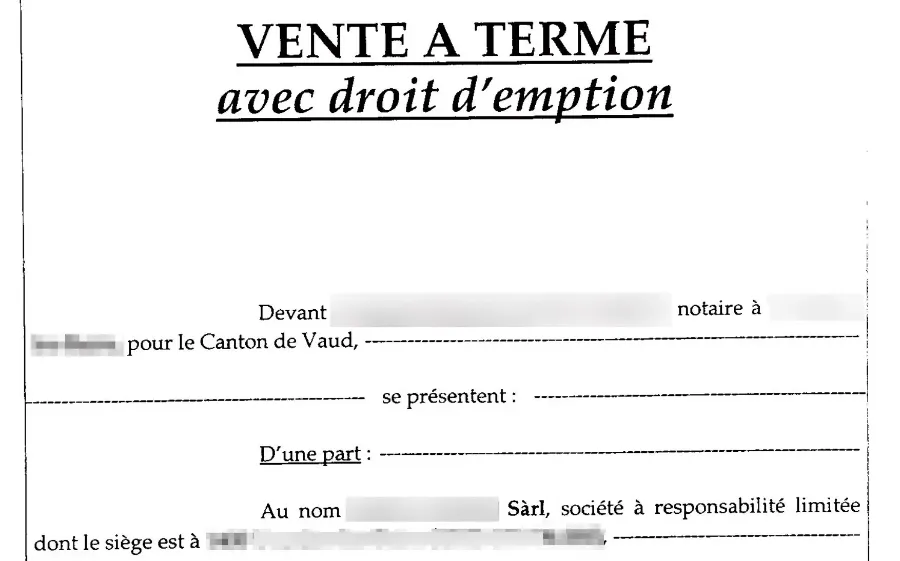 One of my privileged contacts in the real estate business reviewed and approved my program. He himself has built real estate for ~100 million CHF in French-speaking Switzerland to date:

Mathieu
Builder and promoter of
Swiss real estate for 15 years
"The only program that focuses on Switzerland for a 1st rental property investment. No bitcoin-esque magic, just concrete facts applicable slide after slide!"
---
Rental property investment in Switzerland,
Your action plan:
Choose the package that suits you (see below)
Receive the 1st chapter of the program immediately by e-mail (the following ones will come at regular intervals, by e-mail too)
Follow step by step each of the detailed stages
Buy your first rental property in Switzerland (send me a picture so we can celebrate it virtually!!)
Receive your rents as a new rental property owner in Switzerland (i.e. several thousand CHF usually!) 💰
I promise you:
No jargon
Zero useless blabla
Zero commissioned products
---
Choose from 3 packages:
Package "Essential" - CHF 89
For the seasoned investor who wants to reassure himself with proven tools before his first real estate purchase in Switzerland.
Content:
📈 Spreadsheet real estate profitability calculation (private Google Sheets file)
🙋🏻‍♀️ The 15 questions to ask to calculate your rental return
☑️ 19 things to check during a rental investment visit (checklist format)

You will have the possibility to verify your purchase.
---
Package "Complete" - CHF 379
For the young professional who has no idea how to do it, but who intends to acquire his first rental property investment in Switzerland within the year!
The "Essential" package, and the 10 immediately applicable chapters, including:
What strategy to buy rental property to choose when starting out (what, how, how much, where)
How to activate 100 people in your network in 3 days, to drastically increase your chances of finding a rental investment
How to automate your searches to get opportunities even while you sleep
How to calculate the rental yield of a real estate investment (step by step)
How to know in less than 9 seconds if a rental investment is worthwhile
Concrete example of rental yield calculation with a real property in Switzerland
All the questions and checklists you need before and during your visits
All this with my usual humor, without headaches, and in a good mood!

You will have the possibility to verify your purchase.
---
Package "Personalized" - CHF 899
For the investor who has made up his/her mind to buy a rental property investment, no matter what.
In addition to the "Complete" package:
Access to a dedicated MP email address to send me all the info about your potential property (i.e. the info described in the programs)
Confirmation of your rental yield calculations from me
I will also tell you what purchase offer I would make in your place, and if/what I would negotiate on the price depending on the situation
Think of this package as access to someone you can trust, someone who knows the ropes, and who you'll have access to at the most stressful time of a rental investment: right before you send in the purchase offer at the right price to pass.

You will have the possibility to verify your purchase.
---
What you don't want...
If you are serious about creating a real estate portfolio in Switzerland that will bring you passive income every month, then you want to avoid the following 4 things (I've been there too...):
Never dare to take the plunge, and stay with your cash in a savings account at... 0.0125% interest...
Going through a crowdinvesting platform with only 5% return in your pocket, and the other 10% for them...
Regret for not jumping in the next time you listen to your co-worker or cousin telling you how much passive rental income they make from their real estate portfolio, every month!
Listening to your financial "advisor selling you his UNIQUE and GENUINE real estate fund, with the added bonus of his all-expense paid Porsche (for him, not you!)
What you want: options & diversification
This program is another step towards your early retirement at 40 in Switzerland.

One rental property at a time!





Some participants have aspirations other than very early retirement: a safety cushion to launch a personal project, a move to part-time at their job, a sabbatical year with the family before the kids are too old, etc.

But all of them have one thing in common, you and I included: creating options through the financial freedom of passive income in CHF.

I guarantee you: that if you follow and implement each of my steps, you will have rental property buying opportunities in 6 months. Otherwise I'll give you a full refund!

And you don't need a degree in Mathematics nor a diploma from the EPFL to build your wealth through real estate in Switzerland.

I am living proof of that ;)

---
You, young Swiss worker, in 6 months
Today, you are confused and ill-equipped with information on how to acquire a rental property investment in Switzerland.

You just have no idea how to approach this rental investment in Switzerland. And it's not the desire that you lack!

In 6 months, after following and applying my step-by-step program, you will be that person who has succeeded in buying a rental property in Switzerland.

Your acquaintances will wonder how you managed to get into this closed circle of rental property investors.
"Where did you learn to get into property investing?! Did you actually win the lottery…?"
Nope!

You just knew how to find the right keys and put the necessary energy into it.

---
Detailed content of
the "Swiss Real Estate Program"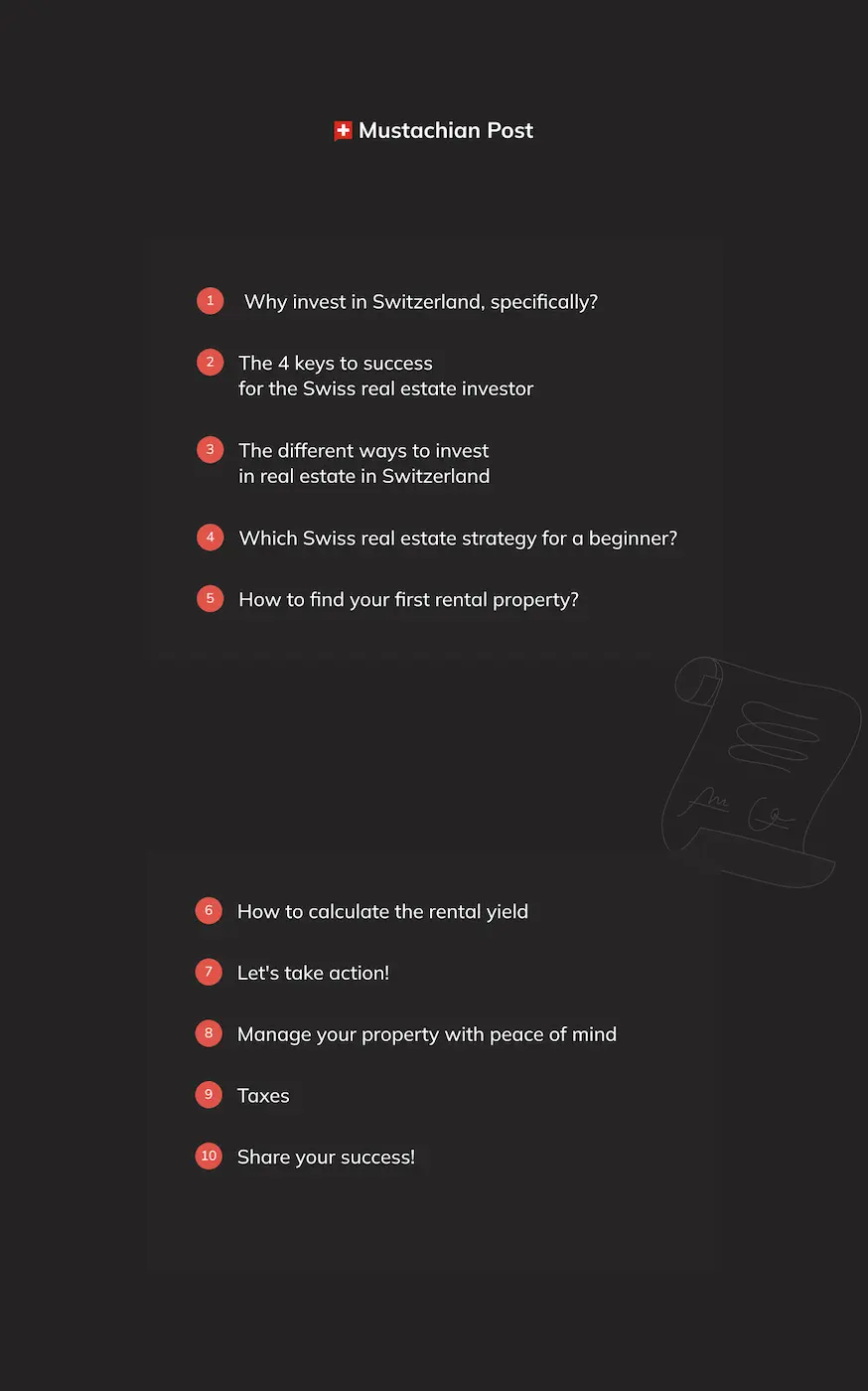 You will have the possibility to verify your purchase.
---
FAQ (Frequently Asked Questions)
How much money do you need to start property investing in Switzerland?
In order to get a mortgage for a rental property in Switzerland, you need 25% equity. So if you choose an apartment that costs CHF 400'000 to start with, you need CHF 100'000.
An important point to note: my "Swiss Real Estate Program" works as well for an apartment/house as for a rental property in Switzerland.
Also, if you are short on the funds, one option I use myself is to buy with one or more partners.
Does the purchase of package 2 give access to the contents of package 1? Similarly, does the purchase of package 3 give access to the contents of packages 1 and 2?
Yes, if you buy package 2, you also get all the contents of package 1. And if you buy package 3, you get the contents of package 1 and 2.
Is there an expiration date for the "Personalized" package? (i.e. if I don't manage to acquire a rental property within 6 months, will you still be able to help me?)
There is no expiration date, as I know it may take a while. So yes, I will still be available to help you, even after 6 months.
You confirm that the exchanges in the "Personalized" package are done by email (i.e. no video conferencing or phone)?
I confirm! Everything is done entirely and solely by email.
Does the program contain only written documents, or also videos?
Only written content, very digestible, and not taking hours to read as can be the case with a video.
How many days does the program last?
The "Swiss Real Estate" program lasts 17 days in total (i.e. you receive the first chapter with the exercises directly after your purchase, and so on until the last chapter on day 17).
Do I understand correctly that the information and knowledge contained in the program is applicable throughout Switzerland, even if you live in French-speaking Switzerland?
Yes, the information and knowledge is applicable to the whole of Switzerland.
Would the "Complete" package also be useful to better understand the Swiss real estate market in general, in case we want to buy a main residence in Switzerland to live there ourselves?
Clearly! I would have loved to have this knowledge when I bought my own main residence in Switzerland so that I would have been better equipped to negotiate ;)
My husband and I are both expats in Switzerland, and we find ourselves in a "bubble" of international friends/colleagues. Is this likely to be a problem for the chapter "How to activate 100 people in your network in 3 days" in order to find a rental property?
On the contrary, this part will be even more important for you and will help you open the right doors.
Is it possible to buy the "Complete" package today, and unlock the "Personalized" one in a while, without paying the full price of the latter?
So I didn't plan for this case. But we can actually do it like this: you buy only the "Complete" package now, and if you need the "Personalized" package in the future, you write me and I'll give you a special link to pay the difference between the two prices when the time comes.