Last updated: November 16, 2022
---
The number of blogposts growing more and more, I noticed that it was hard to keep an overview of all the great tools that I use in my life in order to increase my wealth. That's why I grouped them all on this page:
---
FINANCE
---
Best bank Switzerland 2022: neon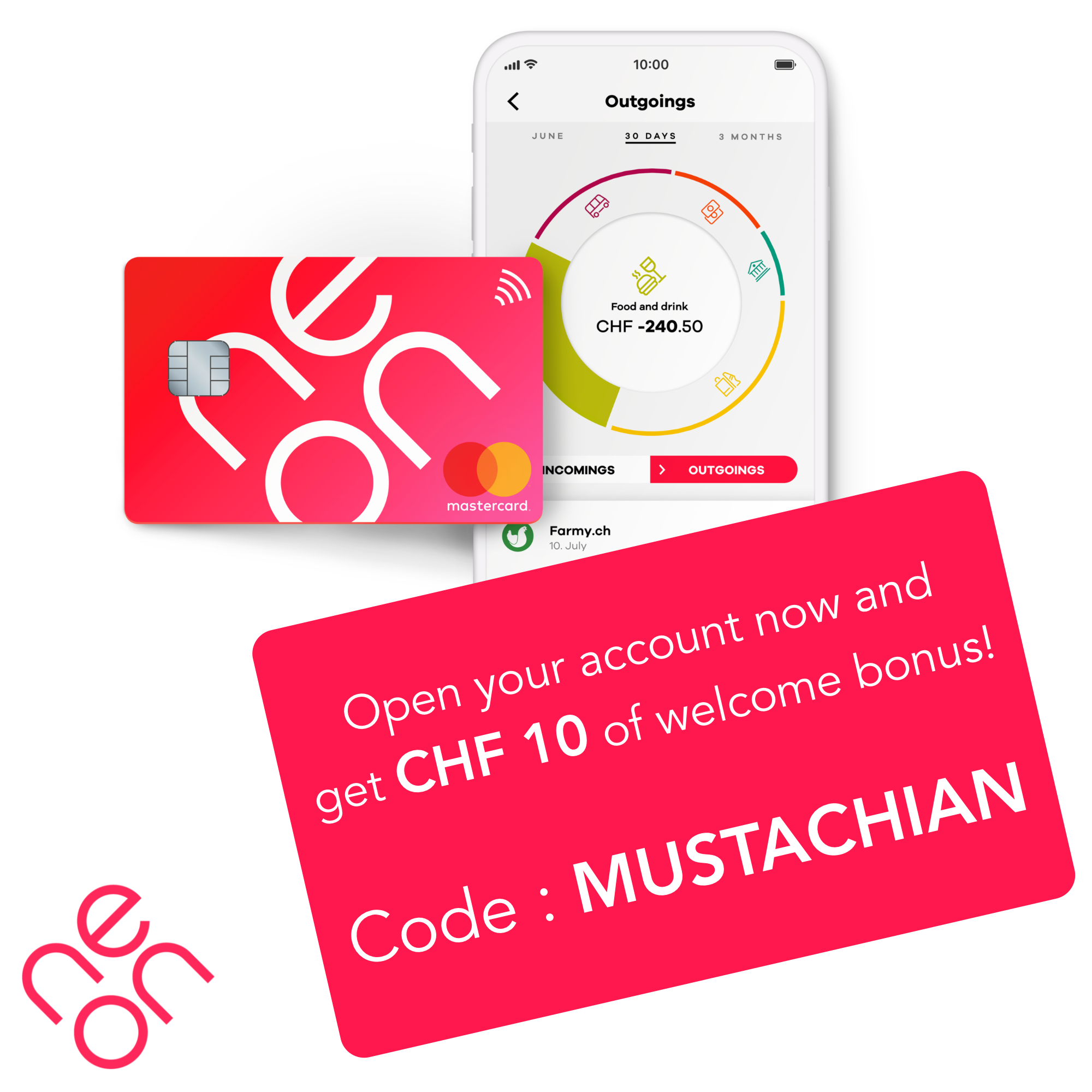 neon is my 100% free Swiss online bank. You are entitled to CHF 10 of welcome cash by using my special code "MUSTACHIAN" in their app (read my detailed article to understand my choice).
Another alternative that may better suit you is the Swiss online bank Zak which I have compared with neon in this article. I also negotiated you CHF 50 of welcome cash if you use the code "ONLYMP" during the account opening process with them.
---
Best credit cards Switzerland 2022: Swisscard Cashback Amex, Cumulus MasterCard, and neon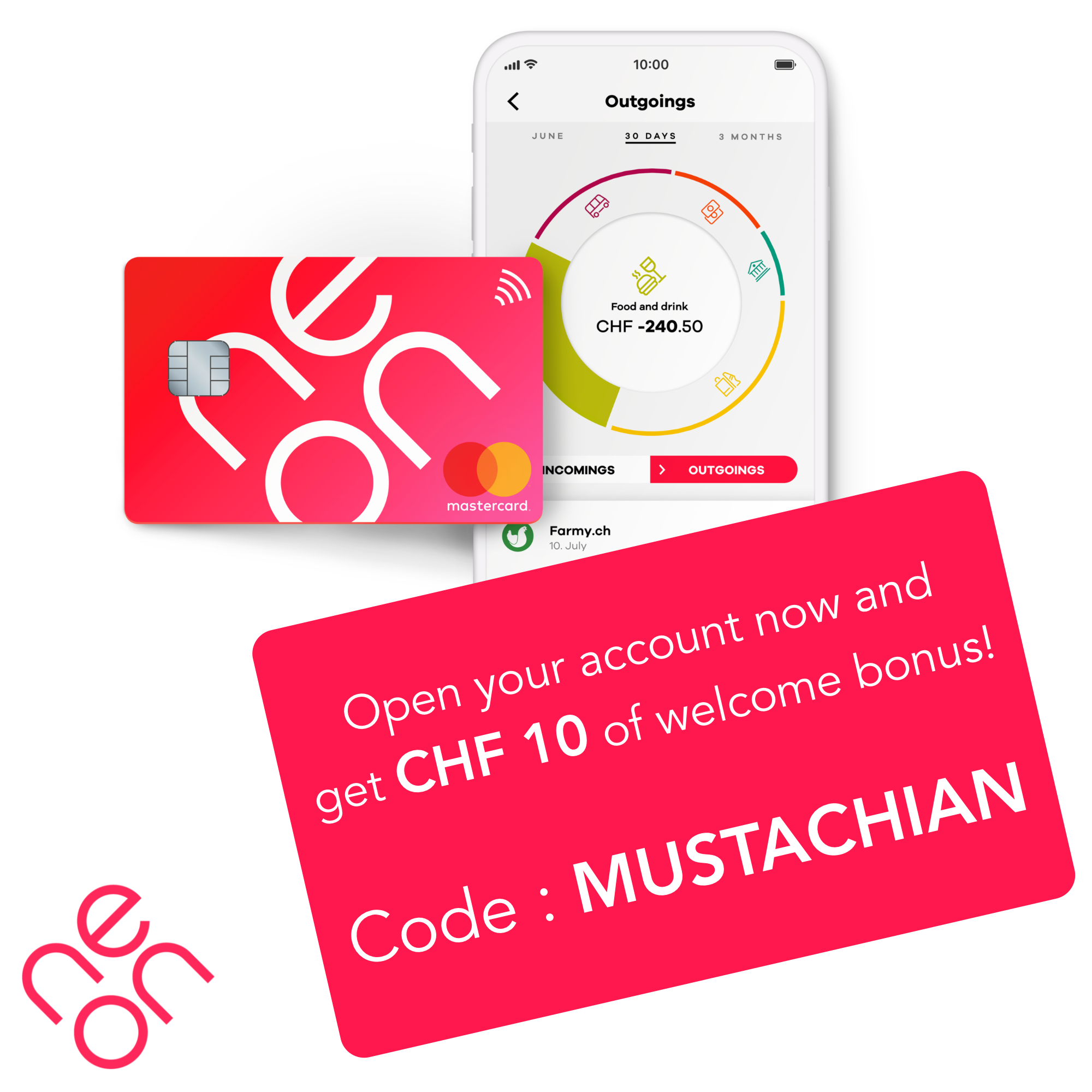 My Swiss credit card system allows me to earn CHF 551.88 per year compared to a system with UBS, Credit Suisse or BCV credit cards.
Before switching to this setup, I was paying:
CHF 100 of annual credit card fee
CHF 251.88 for expenses on my expenses in foreign currencies
(and I didn't earn anything in cash back)
After the implementation of this new system, here is what we have:
CHF 0 of annual credit card fee
CHF 0 of fees on my expenses in foreign currencies
CHF 200 of cash back per year
In summary:
The Swisscard's Amex Cashback is 100% free of charge and has the most advantageous Swiss cash back program. If you order it with this code "FC40XDREG", you will win CHF 40 of welcome bonus in cash
The Certo! One Mastercard World from Cembra is 100% free too. I use it as soon as my Cashback Amex is not accepted in order to take advantage of the second best cash back program in Switzerland. By ordering it with this link, you earn in addition CHF 50 of welcome cash
The free Mastercard debit card from neon to pay anywhere in Switzerland where credit cards are not accepted (including the countryside!), abroad, and in foreign currencies (shops and online)
I explain my credit card system in detail in this article.
---
Best pillar 3a: VIAC and finpension
You want to take advantage of the pillar 3a tax reduction, but you don't like the outrageously expensive funds in which your savings are invested?
We had the same problem.
finpension or VIAC is our solution.
All our 3a money is invested in equity ETFs up to 97% or 99%. Minimum fees, maximum returns ;)
You can use the finpension welcome bonus code "MUSTBC" when you open your pillar 3a account. This gives you a finpension lottery ticket to win 1 year of 3a contributions in the amount of CHF 6'883 (provided you transfer or deposit at least CHF 1'000 in the first 12 months).
If you choose VIAC, then you can use one of my VIAC welcome codes: MCAdjpn, gCRfHUZ, CC9Q5oD, cCys4KN, and 1CEV12c. With this code, you get free management on your first CHF 500.00 saved on your retirement account — and it's valid for life!
If these codes are no longer valid when you read this page, go look in the comments of this article to see if another Swiss Mustachian has posted his ;)
---
Best online brokers Switzerland 2022: Interactive Brokers and DEGIRO
"Stopping to work at age 35-40 while living on your passive income" is based on the fact that you invest your money.
The goal is for your money to work for you every minute of your life. While you sleep, it works. While you're at job, it's working too. While you are hiking in the Fribourg pre-Alps, it also works!
And in concrete terms, what I mean by "it works" is that you earn cash without doing anything at all.
I personally aim for at least 7-8% over the long term with my investments in ETFs.
To buy these index funds as a Swiss investor, I recommend 3 online broker options:
Interactive Brokers, it's the best for a Swiss investor
DEGIRO if you prefer to have an online broker based in Europe rather than in the US
Cornèrtrader if you absolutely want to have your broker located in Switzerland. In case you choose this option, make sure you invest at least once a quarter to avoid paying their CHF 35/quarter inactivity fees
As far as I'm concerned, I chose Interactive Brokers for our money invested in the stock market, and DEGIRO for the money we are saving for our children.
You will find my two complete guides for Swiss online brokers Interactive Brokers and DEGIRO by following this link.
---
Budget: YNAB
YNAB (aka. You Need A Budget), it is the tool I have been using since 2013 and which has enabled me to grow my net worth from CHF 50'000 to CHF 500'000 CHF 750'000 CHF 1'044'205 in 6 8 8.5 years (see the full article).
---
Real estate: Rendementlocatif.com
After automating my stock market investment strategy, I looked for a way to increase my returns and also to diversify my investments.
By talking to several readers, real estate tempted me because of its tangible side and its returns of at least 15%!
But this world was completely new to me. With very specific calculation methods. That's when I discovered a tool that became essential for me to calculate the potential of a property in less than 3 minutes and this in a 100% reliable and objective way : rendementlocatif.com
Pro tip: create your account at 9.99€/month when you are in intense search phase, and then stop it when you have found your property. And you can then reactivate it at each new acquisition phase ;)
---
Crypto-currencies: Coinbase
I have invested 1'000€ via Coinbase (read my detailed article) in case it turns into CHF 1'000'000 in 10 years. For the moment it has been stagnating since 2017. We'll see about that :) Anyway, one thing's for sure, I'm not adding a dime to this.
---
INSURANCES
---
Swiss health insurance: Assura
The benefits of basic health insurance, also known as Swiss KVG/LAMal insurance, are regulated by law and are therefore the same for all insurers. It is only the quality of service (speed of reimbursement, availability of customer service, third-party guarantor, etc.) that can change. But not the coverage of your costs.
Knowing that being Mustachian, I am not dependent on reimbursements, my choice goes to the cheapest Swiss health insurance with the highest deductible (i.e. CHF 2'500 to date). And since 2013, this Swiss health insurance is Assura (for our family situation, as residents of the canton of Vaud).
Nevertheless, as we can change it every year (please note the cancellation deadline, which is before 30 November at the latest, for a registration to the new health insurance the following year), we always check at the beginning of the school year in September if there is not a cheaper health insurance via the Moneyland comparator.
If you've never questioned your Swiss health insurance, then I'd advise two things:
Read this case study of David (a reader of the blog) who discovered a savings potential of CHF 116.90/month, or CHF 1402.80/year, or CHF 19'608 each decade
Check that you have the cheapest Swiss health insurance for your situation via this Moneyland.ch online comparison service, and apply for a quote for free in case you find cheaper elsewhere
---
TELECOMS
---
Internet and mobile: Sunrise via QoQa.ch
Being a cash cow with CHF 100-200 of internet + mobile subscriptions? Very little for me.
My current setup allows you to have unlimited home-internet + unlimited mobile abo for everything, for an amount between CHF 42 and CHF 64 (for one person), and between CHF 84 and CHF 105 (for a couple). Now you know what to do :)
---
PERSONAL DEVELOPMENT
---
Books
My readings that can help you become richer in different ways:
How to get salary increases:
How to take charge of your life and make it your dream:
How to refocus your life on what really matters (relationships, objects, and much more):
---
MAKING MONEY ON THE INTERNET
---
Online survey: TestingTime (~ CHF 200/h)
Are you interested in giving feedback to companies on their new wealth management tools and other financial services? And all this while being paid around CHF 200/hr for each session?
Then, this is the way to go: free TestingTime registration as a tester.
You can read my full article on this tool here.
---
BLOG
---
Hosting: Digital Ocean and SiteGround
If you want a reliable and cheap hosting for your blog (or any other technical project), I can only recommend Digital Ocean that I use since the beginning of the blog (2014!).
If you use this Digital Ocean link to create your account, you get $50 of free credit to use during the first 30 days.
I was also asked what other platform I would use if I had a blog based on Wordpress. I am currently (as of end of 2019) studying this question for a personal project of Mrs. MP.
We will turn to SiteGround after having browsed the review sites and also having seen other bloggers (whom I trust) choose this hosting company. I'll update this section once we really tested it. In the meantime, do your own research and if you end up on SiteGround, please let me know about your feedback ;)
---
OFFICE AND WORK HEALTH
---
These tools make me richer in two ways: firstly richer in health (and that's priceless!), and secondly in money because I need fewer medical appointments thanks to them. The winning combo!
Office Chair: VLUV Stov seating ball
I have a job where I sit at the computer desk for eight hours (and more). After many years in this position, I started to suffer from back pain. So my reflex was to go to the osteopath regularly and to choose an ergonomic chair.
Except that a comfortable office chair only made the problem worse because I was sitting in front of my screen even longer.
My old osteo had only talked to me about exercises to do until now... that I did 2-3 days after my session, and then I gave up afterwards.
Except one day, I changed my osteo. And he told me not to keep my ergonomic chair. And to take a Swiss ball (also called a ball chair or seating ball) instead.
The principle is simple: on the one hand, you will strengthen your muscles in your abdominal and back muscles. But above all, you will feel pain much more quickly, a sign that you need to make a mini-break because your body is made to move, not to sit for hours.
I can't stop recommending it to those around me because it has relieved my back pain, definitely.
I chose the VLUV Stove which has the advantage of having a nice look (rather than an ergonomic plastic ball) and, moreover, which is of very high quality and facture.
You can see the product details by following these links Amazon.de or Amazon.fr.
---
Note: there are many affiliate links in this article. If you use one or more of them, you won't notice any difference than with a standard link — but the blog will get a referral commission. I thank you for this.
As usual, I only write and review things that I use in my personal daily life, or that I trust.
---
---