I am currently evaluating which online broker to use next.

No worries, my top 3 best Swiss online trading platform for 2022 has not changed. I still recommend (in order) Interactive Brokers, DEGIRO, and CornèrTrader.

Except that, and this is a luxury problem, I always told myself that I would also diversify my online brokers when I would reach CHF 500'000 invested with Interactive Brokers. And so, the good news is that we are getting closer, because we should reach this amount by the end of 2022! 😱

But that also means I have to start doing my homework.

To be honest, it makes me sweat looking for a broker other than Interactive Brokers…

But well, there are two reasons that make me really consider the matter:

My securities (ETFs and stocks) are protected up to 500'000 USD at Interactive Brokers via the SIPC protection, so if Interactive Brokers were to go bankrupt, I have a better time staying below that amount for every account I have with them
With what's going on in the world right now, I realize that you're never safe from financial restrictions that can fall on the corner of your head overnight for political reasons… although I don't think I'll find a solution outside the US…
Anyway.

Therefore, I start looking for a second best online broker of the same caliber as Interactive Brokers.

Search criteria for Swiss investor trading platform
As a reminder for newcomers to the blog, here are the criteria Mustachians that I use to establish my ranking of the best online broker 2022 allowing me to invest in the stock market in Switzerland:

Possibility to open an online brokerage account as a Swiss resident, of course :)
Account maintenance fee: CHF 0
Inactivity fee: CHF 0
Custody fee: CHF 0
Transaction fees: less than CHF 1
ETF transaction fees: ideally free via a list with the best ETFs (which often contains my favorite ETF!)
Lowest currency exchange fees
No minimum amount to open an online trading account
Online broker established for several years or even decades, because we will put in there all of our savings to reach our early retirement in Switzerland!
Possibility to have an IBAN account in CHF to send my savings directly from my Swiss bank account neon
Account maintenance fees, inactivity fees, custody fees, and currency exchange fees are purely administrative fees. Swiss online brokers (including our dear banks…) like to gorge themselves on these fees. Except that as investors, with 1% here, and 1% there, our wealth is likely to melt like snow in the sun as time goes by. Fortunately, the competition is starting to be felt in Switzerland, and it tends to go down.

Transaction fees, as the name implies, are the fees you pay when you buy or sell a security. The "real" online brokers do their business on volume through these fees. They offer you top-notch service, and know that by being the best, they will attract a lot of capital, and start making substantial money at that point — vs. charging you fees to generate cash in the short term, but losing you in the long term because it doesn't align with your frugal style.

A note about the Swiss stamp duty…
Another thing that won't help my diversification out of the US is that any online broker based in Switzerland charges you a stamp duty. You can read more about this in my tax optimization guide for Swiss investors.

And as my favorite VT ETF is American, it means that I would have to pay 0.15% Swiss stamp duty on the amount of each transaction… For a transaction of CHF 10'000, we are talking about CHF 15. Over several decades, it goes fast!

Suffice to say that I am still not ready to use a Swiss online broker because of this tax optimization option.

Candidates best online broker Switzerland 2022
As a Swiss investor, here are the online brokers I will consider for my 2022 ranking:

Interactive Brokers — my favorite since the beginning
DEGIRO — my favorite for those who prefer to stay in Europe
CornèrTrader — my favorite for who wants to be based in Switzerland
Swissquote, to answer the recurrent question of what I think of it ;)
FlowBank, same as Swissquote
The new online brokers on my list, all based in the US, that I am considering:

Charles Schwab
Fidelity
TD Ameritrade
E-Trade
Merrill Edge
In order to avoid searching for all the info on fees for nothing, I will first check the eligibility of the newly added US brokers for Swiss residents.

So we are already eliminating 3 candidates, and we are left with only two new online brokerage options as a Swiss: Charles Schwab and TD Ameritrade. By the way, while reading the fine print on each website, I learned that Charles Schwab is absorbing TD Ameritrade, and that this change will be effective during 2023. Because of this, I will not analyze TD Ameritrade further, and only keep Schwab with their current pricing policy in 2022.

Online broker comparison Switzerland 2022
Now that we have our candidates for the best online broker in Switzerland, let's see how each one fares against our Mustachians criteria:



Display the image in full resolution
At first sight, we realize who we can quickly forget in this ranking.

But to make it more readable, I'm going to use the examples of Adrian and Melanie as I had done in the past: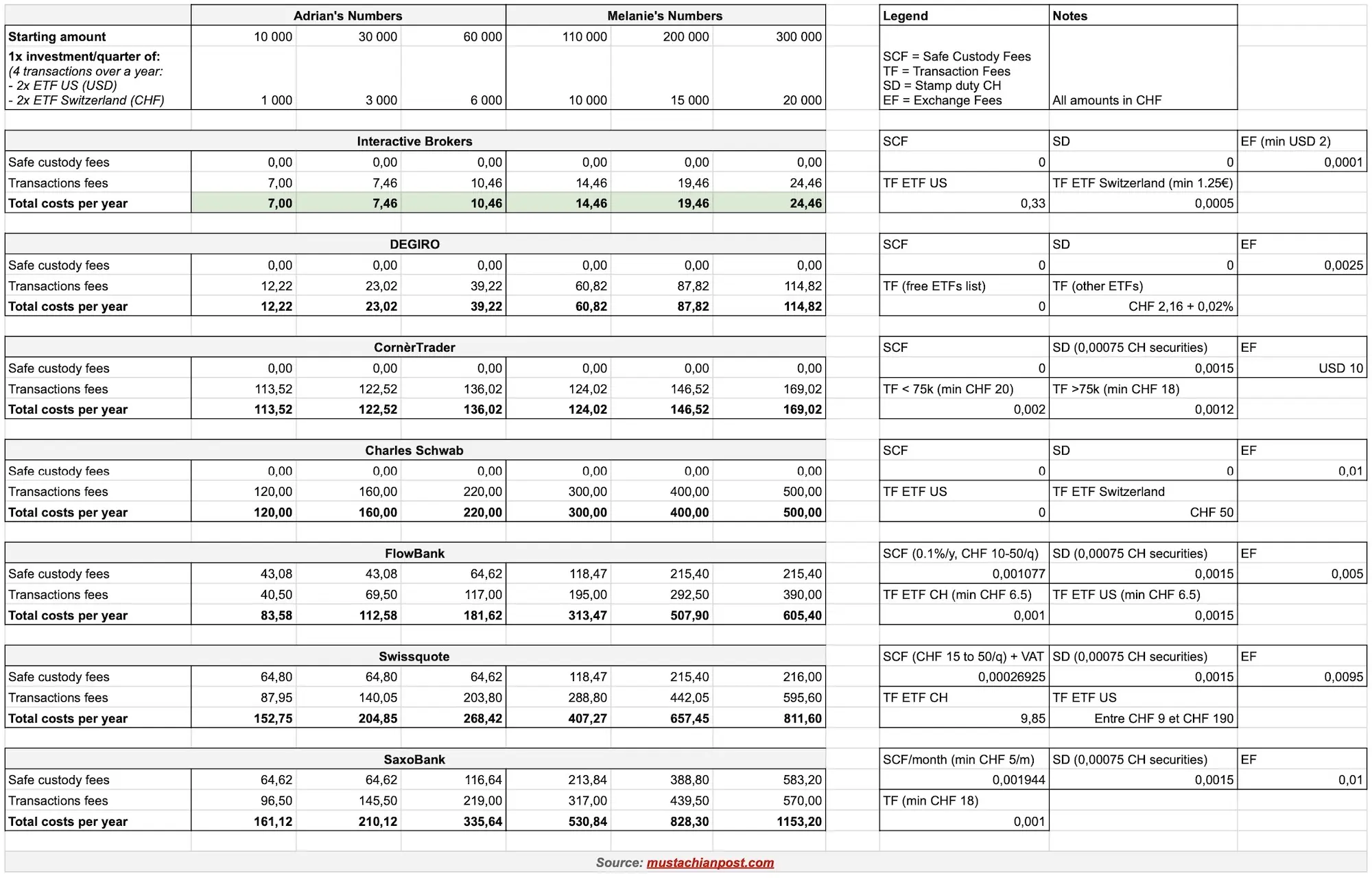 Display the image in full resolution
And to make your life easier, here is a summary of my comparison of the best Swiss broker for 2022 in terms of fees:



Display the image in full resolution
Which second broker for the MP family (>500k USD invested in the stock market)?
So, when we'll exceed 500'000 USD invested in the stock market with Interactive Brokers, the question will really arise as to where we should open a second account.

Indeed, the SIPC organization (based in the US) only protects up to half a million USD of our assets.

In theory, I would like three things for my second broker:

Based outside of the United States, to diversify from global geopolitical risk
With bankruptcy protection of at least 500'000 USD
Be able to buy my favorite Vanguard VT ETF
Except that the first criterion makes the other two impossible…

Only in the United States does the investor protection go up to 500'000 USD. In Europe and Switzerland, it is between CHF 20'000 and CHF 100'000…

Also, the new PRIIPs regulations prevent any broker outside the US from offering my favorite Vanguard VT ETF…

So, rationally, I should fall back on Charles Schwab.

Except, it bothers me to have an n-th brokerage account with a different login, because it will be that much longer to monitor when I'm tracking my accounts with YNAB. And I'm not even talking about the 4-5 times higher fees…

As a result, when I will reach 500'000 USD invested in the stock market, I think I will go with a pragmatic alternative.

Knowing that our current Interactive Brokers account is only open in one of our two names, we will open one in the other's name at Interactive Brokers. This is because, thanks to SIPC, each individual Interactive Brokers account is protected up to USD 500,000.

And by the time we have to choose our 3rd broker (i.e. when our wealth invested in the stock market will be more than 1M USD), I think that the ecosystem of online brokers will have evolved even more in favor of us, the small lambda investors.

And maybe at that time we will still stay with Interactive Brokers, because we think they are the most reliable and stable. Or maybe Switzerland will have put an embargo on all companies in the US for some geopolitical reason, and we'll have to hurry up and transfer all our ETFs in Europe at DEGIRO or at CornèrTrader.
But by then, I will have prepared an update of my comparison of the best Swiss online broker :)

Result best online broker Switzerland 2022
We can see that the top 3 best Swiss trading platforms for a Swiss investor remains the same:

For a risk profile of 3-7/10
And that's taking into account that you want to invest as much in US-based ETFs as in Swiss ETFs. That is, you have a risk profile of between 3 and 7 out of 10.

If you are more aggressive like me, and only invest in the US-based Vanguard VT ETF, then your top 3 best Swiss trading platform is:

For a risk profile of 8-9/10
Because indeed, there are no purchase fees for US-based ETFs with Charles Schwab. Nevertheless, there are still these currency exchange fees which are quite high. But you can potentially lower them by converting your CHF into USD via Revolut (free up to CHF 1'250/month) or via Wise (for everything above CHF 1'250/month).

Make your CHF work while you sleep, now
If you are just starting out with the FIRE movement in Switzerland, I remind you that investing is key to growing your wealth, and being able to live off the returns when you reach your early retirement.

I personally learned to invest in the stock market in Switzerland by trial and error, making mistakes in my choices… because there was no Swiss trading program at the time… it took me several years to get the right system in place that works, and doesn't take me more than 15-30 minutes a month!

That's why, at the request of many readers, I have packaged all this in a program to invest in Switzerland without jargon, simple, and effective.

So if you want to take a big shortcut in learning how to invest in the stock market in Switzerland, while understanding what you're doing 100%, then you might be interested in my Beginner's Program:

Conclusion
Interactive Brokers remains my top choice for investing in the stock market in Switzerland in 2022.
Up to an invested fortune of CHF 1'000'000, we will stay at IB with Mrs MP with an account of CHF 500'000 each.

We remain diversified with the children by using DEGIRO as the best Swiss trading platform for the CHF 50 each that we set aside for them every month.

As for what will happen after the 1M CHF of investment in the stock market, it's music to the ears of the future. But at least, with this comparison, I know my options. By the way, if you have to choose now (because you are already a millionaire), then for my part, I would go with DEGIRO or Charles Schwab as a second choice after Interactive Brokers (depending on your investor risk profile).

Finally, a last word about other Swiss trading platforms such as PostFinance, Migros Bank, UBS, or Credit Suisse: I don't talk about them at all here because they are all really too expensive, and therefore not interesting for a Mustachian investor.

---
And you, you invest in the stock market in Switzerland with which trading platform in 2022?